A Step In The Right Direction
Preamble
Following my deep technical analysis of the physics and limitations of digital cameras, I realised that compacts might be capable of the same image quality as SLRs, provided resolution was kept down and lens speed was kept high. In 2009 I bought a second hand Canon G5 (2003) to test this theory, since it had, on the face of it, the best specs of any compact ever made. Namely: An 1/1.8" 5 MP sensor offering a pixel pitch of 7.6 µm², an f/2.0-f/3.0 zoom lens and the ability to shoot raw. Sadly, it was not able to compete properly with my SLR due to its inefficient sensor, its slow processor and Canon's refusal to let DPP (its raw processing tool) process its raw output.

I was not dissuaded however, and continued to keep my eyes open for a modern version of this landmark camera. My interest was piqued again when I read a review of the Panasonic LX3 and examined the sample images. The fast f/2.0-f/2.8 lens was very attractive but I felt it wasn't quite long enough and it was clear from the samples that the sensor was a tad noisy. The G11 looked attractive, as did the S90, and I felt that their sample images were better than the LX3. Their lenses were not fast enough across the range however and I resolved to wait for something better.

In July 2010 Samsung announced their EX1 (TL500). It was built to outspec all competitors in the expert compact category, ie it was built to compete with the LX3 the S90 and the G11. I saw the specs and I thought: "Is this the one? Has someone finally built it?". The specs were great but the sample images on the net were somewhat underwhelming. I looked further however and found samples that WERE impressive and I realised that this was a camera that HAD to shoot RAW. I realised that this was the first camera of a line, and as such it would contain bugs and bad ideas, but it should, in theory at least, be capable of the best results of any compact around at the time. The only question was whether I could work around the bugs and get the quality images I expected.

I would have held off, but I was about to leave for a tour of Great Britain and I needed a camera that I could rely on to shoot landscapes. Non photographers have no idea of the workings of SIR autofocus detection units, or even that they exist, but the fact is, that when it comes to landscapes, SIR detectors will fail to focus correctly most of the time. All SLR cameras have SIR autofocus units as default, some also have contrast detect autofocus which is the type used by all compact cameras. My Nikon D60 does not have contrast detect autofocus and as a consequence is unsatisfactory as a landscape camera. Yes, I have managed to get some sharp results with it using manual focus, but this was as much due to good luck as it was to good technique. On reviewing my best landscape shots I found that most of them were taken with compacts and even my fixed focus camera phone! This was enough to push me over the edge and I decided to take a gamble on the unknown and buy this latest thing!

Here are the specs that made me buy the EX1:
Schneider Kreuznach 3x zoom lens f/1.8 - f/2.4. To my knowledge the fastest zoom lens EVER put into a compact. In fact, I haven't even heard of an SLR zoom lens this fast. You could buy the camera for this lens alone.
1/1.7" 10 MP CCD sensor. I believe this is the Sony ICX685CQZ, the same sensor used in the G11 and the S90. Judging from contemporary sample images, this is the most efficient sensor ever put into a compact. With a pixel pitch of 4.3 µm², I think it still has a few too many megapixels for the substrate but it was the best at the time.
3" hires AMOLED flip out and twist display. If you've never used a flip out and twist display you don't know what you're missing. They are useful! As for the screen, Samsung as famous for making quality TVs so you could expect this to be bright and accurate.
Lens shift Image Stabilisation. This isn't so necessary for moving people at short focal lengths, but damn handy for macro shots and in low light for photographing people holding a pose or stationary objects like paintings in galleries and machinery in museums.
Sensitivity up to ISO 3200. You expect a lot of noise at this sensitivity, but it can't hurt to have it there!
The Lens
It is the LENS that offers a small sensor compact the chance to compete with a large sensor SLR for image quality. SLRs cannot produce a generally useful Depth Of Field below f/2.8, nor do they make SLR zoom lenses below this aperture. In fact, for general purpose photography, on a typical SLR using an APS sensor you will be using around f/5.6. Small format compacts exhibit generally useful DOF even below f/2.0. Not only that, but the lenses are smaller and cheaper than even the slower lenses for SLRs. A quality compact may have a pixel pitch just 1/8 that of an SLR which means it loses 3 stops of light gathering power, but if it has an f/2.0 lens compared to an f/5.6 lens on an SLR, it gets back those lost 3 stops and both cameras have the same theoretical image quality. That's theoretical folks, where all other factors are equal, which of course they're not, but it's a good start!

Bearing this in mind we can see that this camera's claim to greatness will live or die by its lens. The famous old German firm of Schneider Kreuznach stepped into the breach here and supplied this lens. It is a 3x zoom lens offering several steps between 24mm and 72 mm (35mm camera equivalent). This is the best focal range for a general purpose lens. It's wide enough to shoot groups of people indoors and wide enough to do impressive landscapes but it's also just long enough to get decent head shots. Naturally it has it's limitations and it would be nice to have some extra reach, but it is well known that 3x is about as far as you can push a fast zoom lens before you lose too much sharpness.

I subjected my EX1 to my famous Ulysses Blur Benchmark, (which is just a bunch of Joyce's text stuck on a wall) and scrutinised the results. Here is an example: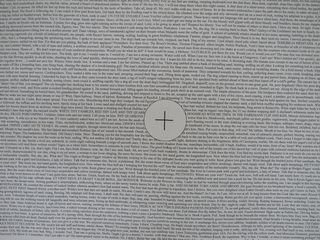 The above image is right in the sweet spot of the range for this lens: this is as sharp as this lens gets. I have looked at a number of lenses with this benchmark and I can tell you that this is respectably sharp but it is not TACK sharp. To see the difference compare these two 100% crops: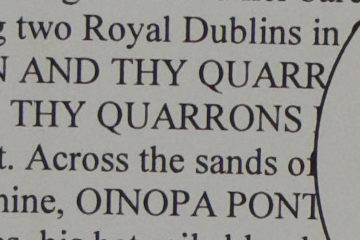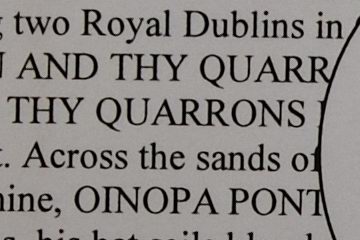 The Samsung EX1 lens at its sharpest                                                      The Tamron 17-50mm DX at its sharpest
The lens is generally sharp but it is never TACK sharp. This would tend to indicate that the lens does not quite have the resolution of the sensor. I don't know whether this is a manufacturing issue with this lens or whether it has run into a physical limitation. Could it be that diffraction effects limit the resolution of small lenses? Whatever the reason, the fact is that there is no point in a sensor with a resolution greater than the lens. The sensible thing to do would be to reduce the number of pixels while keeping the sensor dimensions the same. This will result sharper images with lower noise. Almost no one NEEDS 10MP anyway, so lets reduce it to 8.

This slight blur is not something you are unlikely to notice in everyday shooting however, only in special technical shots or when doing a pixel peeping comparison with a quality SLR will you see any short-coming. You can, of course, simulate razor sharpness by turning up the sharpening in PP: "natural fine" in Silky Pics for example. This is ok up to a point, but it does introduce sharpening halos and exacerbate noise. There is simply no substitute for REAL lens sharpness.
The lens is sharpest at f/2.8 across all focal lengths and almost as sharp at f/4.0, so you should keep your aperture within this range for most occasions. Fully open, most of the frame is reasonably sharp so you should feel free to use f/1.8 or f/2.0 if you need a little extra speed and the subject is confined to the central area. The corners ARE somewhat blurry wide open but that's true for any cheap zoom lens. Beyond f/5.6 diffraction effects set in and weaken the image significantly. Seriously, just use f/2.8 all the time and f/4.0 if you need extra DOF.
There is considerable barrel distortion at wide angle and slight pin cushion at telephoto. Even in the mid range there is some minor geometric distortion one way or the other. Such things are normal in fast wide angle zooms so one can't really blame Schneider-Kreuznach, still, at wide angle it is quite considerable.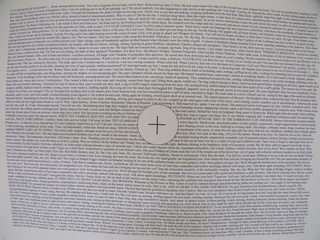 Samsung's solution is a lens profile which corrects the distortion with software. This correction is applied in camera when you frame the shot, in camera generated JPGs and in the bundled Silky Pix Development Studio. None of this can be disabled. If you are a normal point and shooter you wouldn't even know it was going on. This is ok BUT, the correction applied (in Silky Pix at least) introduces more blurriness. This is not surprising around the edges perhaps, when you consider that those areas are being magnified, but not in the centre where minor contraction is taking place. Alas, the additional blur is right across the entire frame. Lightroom 3.2 on the other hand, which comes with the EX1 lens profile, does a lovely job of correcting the geometric distortion, with little apparent extra blur. Incidentally, the Lightroom profile is not the same as the Silky Pix one (apart from being clearer) and gives a little more of the original image frame.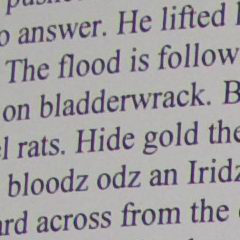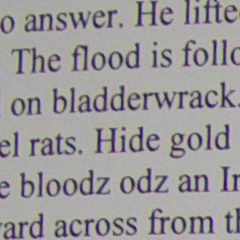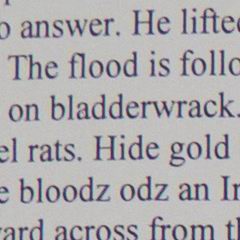 No correction                                                     Silky Pix correction                                           Lightroom correction
I must stress that these are 100% crops so the blur introduced here is MINOR and you are unlikely to see it in everyday shots. Nevertheless, if you are looking to compete with an SLR, you can't afford to sacrifice sharpness for no reason. Goodbye Silky Pix!

As a general rule: If you use Lightroom 3.2 you can just set up your default EX1 preset with the lens profile on, and apply it to all your new images without worrying about any loss in clarity. Only for images with VERY fine detail close to the Nyquist rate is there any point in turning it off. I did find one image with many fine wattle stamens that benefited, but that's a pretty rare case.
Chromatic aberration is apparent in high contrast edges as you would expect in any fast, cheap lens. This is not generally a problem though and your lens profile in your development suite should get rid of most of this for you automatically.
Aperture steps do not always follow standard gradations, so you get f/2.1 instead of f/2.0 and f/3.9 instead of f/4.0 etc. I can see the thinking behind this, but it's not what photographers want. It's a small matter, but really, it's a bad idea Samsung, ditch it.
Schneider-Kreuznach should be congratulated for producing this lens. Whilst not tack sharp, it is remarkably consistently good over almost the whole range of focal lengths and apertures. Yes, it's not as good as a quality SLR lens of the same range, (for example the Tamron 17-50mm DX), but it's a LOT smaller and a lot cheaper. This is the fastest lens EVER put into a compact! f/1.8 to f/2.4 Kudos!
The Sensor
This is the best compact sensor going around at present (same as Canon S90 and G11) and I was pleasantly surprised by it's performance above base sensitivity. Due to the small sensor you can't expect it to compete with the sensitivity of an SLR, but I estimate the performance penalty to be no more than 2 stops over my D60, (and perhaps a bit less), whereas one would have expected 3 stops based on the size differential. Nice job Sony!

Having said that, 2 stops is 2 stops, and once you go beyond ISO 100 you will be able to detect some noise. How you chose to deal with it is up to you. Personally, I prefer to preserve fine detail and put up with the noise dots (especially at the low to middle ISO rates). Once you get to the high rates the noise becomes very intrusive and you may wish to introduce some smoothing. One thing you might try to avoid however is sharpening the noise!
ISO 80 is the base rate. You won't see noise at all, so you should use your fast lens and stick to this sensitivity whenever the light permits.
ISO 200 is very clean, but if you zoom right in you will see faint noise in areas of one colour such as ceilings and skies. Use this for dark days outside, indoors in good light or action photography when you need a little more speed.
ISO 400 is fairly clean, (remarkably so for a compact), and it's a good speed to use indoors in good light when people are moving around. It's also a good speed to use to get a balanced flash shot at night with decent coverage. It ain't an SLR though and the noise is there if you view at full res, but you won't see it at screen resolution.
ISO 800 is actually reasonable! If you got your shot parameters right and use a decent raw converter you will be struggling to see any noise at screen resolution. Wow!
ISO 1600 is surprisingly usable although the noise is quite obvious. If you want to shoot people in a poorly lit room without flash you'll most likely need this. Go ahead and use it, secure in the knowledge that you'll be getting a shot that most SLRs can't take!
ISO 3200 is only for the most extreme situations. With your lens open to f/1.8 and this sensitivity you really can shoot hand-held in almost complete darkness! Of course the result is very noisy, what else would you expect? Nevertheless, for those rare occasions, this could be of some use, actually showing quite a bit of detail amongst the noise. It doesn't do any harm to provide it. Thanks Samsung!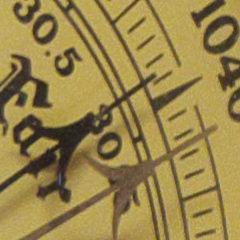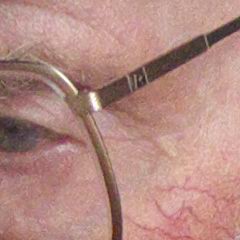 ISO 80 crop                                                     ISO 200 crop                                           ISO 400 crop
ISO 800 crop                                                     ISO 1600 crop                                           ISO 3200 crop
As you can see, it's only at ISO 1600 that noise becomes REALLY intrusive, although ISO 800 is borderline. Remember that these are 100% crops, they look better at screen res. You'll need to shoot RAW though, to get these good results.

If you don't think these results are impressive, try comparing them to any other compact! Kudos Sony!
Metering
Here we come to the one area in this camera where image quality is seriously affected. This camera is prone to blowing highlights. Furthermore, because there is almost zero dynamic headroom even when you shoot raw, unless the blow out is very slight, chances are you won't be able to recover it, no matter what software you use.

Knowing this, you'd think that Samsung would have been careful with their metering, especially their pattern metering. Sadly no, their goal with pattern metering seems to be to get the whole image the same brightness on the screen as it is in real life, EVEN IF THIS MEANS A MASSIVE BLOW OUT! ... Wake up Samsung! This is digital, not analog, we can shoot raw and correct under exposure, don't let pattern metering allow a big blowout!

You can avoid a facial blow out by using spot metering on the face in question, or you can avoid a sky blow out by locking exposure on the sky and then reframing, and no doubt this is why Samsung put those 2 dedicated buttons on the back, but really, this shouldn't be necessary. This is the first camera I've used where the pattern metering has been so poor that I've had to resort to exposure lock or spot metering on a regular basis.
I've read other reviews where they deplore the pathetic built in flash. Those reviewers are fools who don't understand proper flash usage. This camera's flash unit is ok for a compact. Sure, it's no Speedlite, but what do you expect? Set your ISO rate to 400, favour the telephoto end and you can get nicely balanced flash with good coverage to 4m and beyond, perfectly good for house parties and the like. Unfortunately the flash metering is poor... REALLY POOR! Too many shots when the flash is WAY overpowered and no flash bias adjust.

The metering goes some way towards damaging a really good camera. It's easily the worst metering I've come across. It's not acceptable Samsung and only an incompetent fool could have produced such a 3rd rate algorithm. Sack the man responsible!
Body & Controls
Sturdy all metal case. You notice this straight away. It feels serious and well made. This was not a critical point for me as I take care to avoid knocking or dropping my cameras, but a solid case can only be good. Nice!
Pathetic hand grip. This is just plain dumb Samsung. The hand grip protrudes only about 6mm from the body providing very poor and uncomfortable purchase for the fingers. I know they want to keep the body thickness down to make it pocketable, but the lens with the cap on protrudes 20mm!!! So this thickness saving is pointless... Isn't it, Samsung? Make it 20mm like the lens and cap and we'll be happy.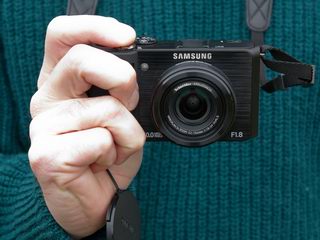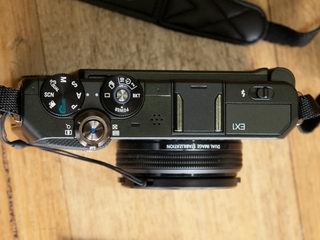 Not practical to use the front roller with one hand.                     The lens cap protrudes FAR beyond the hand grip.
Hair-trigger shutter. I've lost count of the number of times I've either lost focus or the shutter has activated before I had reframed. This happens because there is no "feel" in the shutter button and it's on such a hair trigger that you need superlative finger control to hold it there. I've never had this problem on any other camera I've owned, so it's pretty bad. We need a predictable shutter to be able to lock focus and reframe, it's not rocket science Samsung, fix it!
Too many buttons! This is a compact digicam, not a flight deck! There's so many buttons on the back that there's almost no place to put your thumb. Give this cam to a novice and ask them to take a picture and they'll probably press one of these buttons by mistake. I picked up my D60 SLR yesterday and it was a joy to hold, with a decent hand grip, simple layout and mercifully free of unnecessary buttons!

I shouldn't need a dedicated metering button, I shouldn't need a dedicated exposure lock button and I shouldn't need a dedicated video record button. The only reason the metering and AEL buttons are there is to try and make up for the CRAP METERING! The dimwit in charge of the metering must have sure been a powerful dude in the company to force a change to the hardware design just to make up for his incompetence! Wow! Could it be he married the boss' daughter???

So when you've sacked this idiot Samsung, and after you've fixed the metering, this is what you should do: Move the Fn button to Metering button, turn the Fn /delete button into a dedicated delete button and get rid of the AEL and Video Rec buttons altogether. Once you have some decent pattern metering, exposure bias is the only dedicated metering control you should need.
Click and press rear dial works well. It feels a little flimsy, but the idea is good and highly intuitive, (the same as used in the S90). It's quick and easy to adjust ISO, flash and macro/normal mode. Mind you, the selection of the 4 dedicated parameters isn't too smart. You can't operate the flash option unless you raise the flash unit, in which case you obviously want flash on, so there is really no point in this option in the first place. The display option probably deserves a dedicated button, although where would you put it? Freeing up these 2 would provide the opportunity to place WB and something else useful on this dial.
The front control roller is crap. It's a good idea that is badly implemented. A simple roller might be fine, but the idea that this roller should have a primary and a secondary mode and that you activate the secondary mode by simultaneously pressing and turning is just plain silly. Fire that man! Don't Samsung do any ergonomic testing? With your 2nd finger on the puny handgrip you can just about operate this roller in its primary mode with your shutter finger, but it's awkward. Even the most rudimentary testing would have revealed this. As for the secondary mode: to have to push the roller in WHILE you turn it? It may be theoretically possible Samsung, but in the real world it's a complete pain in the arse.

- The PRIMARY action of this roller should be to set exposure bias NOT shutter speed! Shutter speed control is only active during shutter priority and manual modes and these are only used a minority of the time. The rest of the time the simple mode of this wheel is unused. You need exposure bias at any time so it makes sense to assign the simplest roller mode to that.

I can see why Samsung went this way: Some head design honcho envisaged the rear wheel controlling the aperture and the front roller controlling the shutter speed. Well it might make a neat symmetry in that fool's head, but it ain't much use to a real photographer. He might still be living in manual control land but the rest of us have moved on and have learnt to trust the camera's computer. Is this same idiot that did the metering?

- The SECONDARY mode of the roller should be dispensed with. Shutter speed control should be set with the click wheel the same as the aperture, depending what mode you're in... or you could just let the user set the controls to do whatever he likes.

- I'm not even COMPLETELY convinced that the front roller should stay at all. A dedicated EV adjustment control is a great idea but the roller IS awkward, even in the primary mode.

One alternative might be to use the closest top dial (the mode dial), for EV adjustment and to move the mode selection (which you don't need so often), to the other dial. The shooting drive mode could then relegated to the function menu and click dial where it belongs.

Another alternative might be to move the roller to the left hand side of the camera for the spare hand to control,

Still another would be to put in a lens ring like the S90 to do the job. I know that means you probably can't use a lens adapter but lens adapters on compacts are a bit silly: If you want a specialty lens use your SLR.
Fantastic large, high res, bright, flip out and twist display. This 3" AMOLED 614 KiloPixel screen is just superb. Samsung make the best display devices in the world so perhaps this is not surprising, but still, WOW! If you've never had a flip out and twist display you don't know what you're missing. They are really useful! This screen is perhaps a little TOO large... It's only a camera, not a viewing or editing device. I feel that 2.5" would be large enough and that would leave a little more room to place your thumb and improve the ergonomics.
Image Stabilisation is not entirely reliable. True, the great majority of the time it is excellent, but occasionally... it simply fails.
Battery a little small. This isn't a serious problem for me so far, and I understand that Samsung want to keep the size of the unit down, but when the grip is beefed up there will be more room for a larger battery... eh Samsung?
Focus is a matter of the greatest importance and an area where compacts can outshine SLRs. This is once again the case with the EX1 and you will find that most of your shots will be nicely in focus. Beware though, just like the IS, on rare occasions, it simply fails!

MF is useless! Yes folks, just forget it. The disc of accurate focus you are seeing on the screen is not full res so you can't tell if it's in focus or not. This is BAD Samsung. A poor effort! A really good manual focus ability is handy for those shots where the AF can't do the job. Could it be that the MF is not full res because the AF doesn't use full res? Get it right please Samsung.
Macro mode is relatively weak. They quote minimum focus distance as 5cm, but that's only for full wide angle. Ideally you don't generally want wide angle for macro shots because it gives an unnatural perspective and it tends to scare away small critters. Unfortunately the minimum macro focus distance at full telephoto is 50cm! That's half a meter folks! Not macro at all! If you shoot mid zoom you'll still be at least a foot from the subject, so you're really stuck with full wide angle if you want any sort of real macro performance. Ah well...

Incidentally, there's a dead zone at the wider end around the 2 feet shooting distance, where the lens is stuck between macro and normal modes and will not focus! Beware!
Auto White balance is surprisingly good! In fact, I would go so far as to say that it's the best I've yet encountered! This doesn't mean that it's always right, or even that it's usually spot on. What it means is that it's usually close to the mark, despite a variety of different lighting conditions. I certainly can't say that about any other camera I've used. Not that I care particularly, since I always adjust my white balance in PP anyway, but I'm impressed. Kudos to whoever was behind it!
User Interface
Shooting info display bar is stupid. This is a REALLY BAD mistake. You can't see the bottom part of the image frame when you're shooting because some FOOL wanted to put a semi opaque bar across the bottom! Sack that man immediately please Samsung, he isn't a photographer. Of course you can remove this bar when you switch to "hide shooting info", but then you can't see your aperture, ISO or shutter speed. Dumb, dumb, dumb...
Painful review system. Damn fool blue timeline that brings up the "processing" display for a few seconds every time you accidentally go too wide with your review zoom. The blue mass review process should require some special menu option to enter: when I'm doing a quick field review of the shot I've just taken I don't want to find myself in the mass review process! If I want to look at the previous shot I'll use the click dial. The mass review is for showing your entire trip to your friend on the flight home, you don't want to enter it by accident.

Also you can't move to the next image until you return to neutral zoom. How come your can't use the dial when zoomed in? Fix it please Samsung.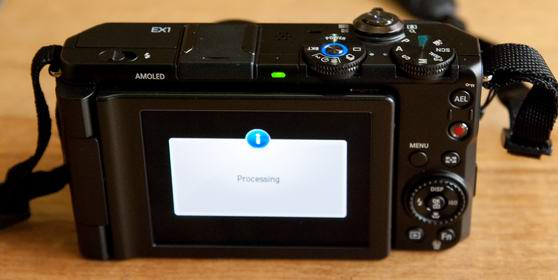 Not enough customisability. When I paged through the menus I thought there must be a mistake... Where are all the options? What were you thinking Samsung? This is supposed to be a photographer's camera... take a look at Canon's menus to see what you left out. Software's easy, if we want to customise, let us!
The basic shooting info should contain the ISO level. You don't need the shooting mode displayed, that's readily viewable on the top of the camera. Nor do you need the SD card symbol. Put in the ISO and leave out the semi opaque bar and I'll be happy.

Also there's no ISO in the full shooting display when auto ISO is selected. I guess that the ISO isn't finalised until you lock the exposure and therefore it's not displayed, but you could give us an idea Samsung! Even if it's not the same as the final choice it'll be close enough for us to know whether we're happy with the way Auto ISO is going, and whether we want to leave it on.
No customisable Auto ISO control. I want to be able to set the maximum ISO that Auto ISO uses. Currently it will only go to ISO 400, an absurd and pointless limitation. if I want it to go to 3200 I should be able to set it to do that. I should also be able to set BOTH the shutter speed and aperture that the camera will use when employing Auto ISO.
Digital zoom. This is supposed to be a photographer's camera... we don't want digital zoom! At least give us the chance to disable it... Sheesh!
Too many button presses to delete a file. It should be like Nikon: press the delete button once, and then once again to confirm. Simple!
Shooting Raw
As far as I'm concerned, if you don't shoot raw you're either incompetent or you don't care about the quality of your images. Raw files give you extra dynamic range over JPGs that you can use to reclaim blow outs and correct exposure accurately. They also give you proper access to the camera's white balance parameters rather than just the colour temperature adjustment you get with JPGs. There are also various other adjustments you will need to do in post processing to get the best images, that are either only available, or at least, best done, in raw.

Raw also avoids all the manufacturer's non-negotiable processing, like noise reduction and lens correction. These things may be fine at times but for the rest they ruin your images. This is especially true of this camera at higher ISO levels where Samsung's noise reduction smears away all the detail. The only way around this is RAW!

I shoot only raw and I will only buy a camera that offers raw. This was one of my criteria for buying this camera. Samsung's SRW format does the job but it fails to impress. I offer the following observations:
Raw files are too large, the SRW files it generates are all at least 20MB in size! I guess that Samsung are storing the data as uncompressed 16 bits per pixel. This is wasteful, since the sensor chip is only producing 12 bits per pixel and there IS such a thing as lossless compression... My Nikon SLR with a 14 bit sensor only produces raw images of 10MP! With a 4GB card on the EX1 I can only store 200 images, instead of the 400 I can get with my 10MP SLR!

Ok, so storage is cheap these days, you don't care, you just buy a bigger card. That's fine, but the extra size slows the write time for each image so the camera is not as responsive as it ought to be.
RAW review is not full res. You want to check your image in the field to make sure it's fully sharp? Well you can't, because you don't see the full resolution in review. This is UNNACCEPTABLE Samsung! Full res please, too bad if it is slow.
The EX1 comes bundled with Samsung Raw Converter which is really Silky Pix Developer Studio 3.0. This is a reasonable development studio with most of the functions you need but there are a few caveats:

- It's rather SLOW! Unless you have a super fast PC you'll be doing a fair bit of waiting.

- It doesn't do a good job of highlight recovery. This is especially a problem given the EX1's penchant for blowouts.

- It applies the Samsung lens profile to correct geometric distortion but this can't be disabled! I don't know what their algorithm is doing but this does blur the image slightly, (not that you'll notice in everyday shots).

- Depending on the adjustments you make it generates 2 sidecar files. This means your archive will contain 3 raw files for each JPG. I know Silky Pix are not alone in this stupidity but it's still a pain in the arse.

Lightroom 3.2 is faster, more powerful and more intuitive than Silky Pix. If you can afford it, get it!
Highlight recovery with Silky Pix.                             Highlight recovery with Lightroom.
Conclusion
I was hoping for an SLR killer, and this is certainly a step in the right direction, but we are not there yet.

The efficient CCD sensor and fast lens allow the user to get low light performance as good as, and in fact, BETTER than, that of an entry level SLR with an f/5.6 kit lens. This is a commendable and useful result, however, it's not as good as an SLR with an f/2.8 zoom. Mind you, an f/2.8 zoom lens will cost you more than the entire price of an EX1, pouch and memory card included!

In good light the much larger pixel pitch of an SLR gives a richer, more natural image than the EX1. I suspect this may be due to the smaller electron well capacity of the smaller sensor. This means far smaller dynamic range, with a lack of detail and colour in the shadows and a tendency to blow out highlights. It is here that the most work needs to be done before we can throw away our SLRs.

The EX1 may not be quite an SLR killer yet, but it should be scaring the willies out of those bloated heavyweights as we speak! If the dynamic range can be improved, the lens sped up another stop and Samsung can fix the metering and iron out all their numerous stuff ups, bad ideas and oversights, we will have a tool that the keen amateur and the professional photographer can use with confidence for general purpose photography instead of an SLR.

In the meantime we have a first attempt by a new player that got the important things right and the other things wrong. If you know what you are doing and you can be bothered getting around all the irritations you will be rewarded with the best images obtainable from a compact digicam in a wide variety of situations. If you can't be bothered or don't need the extra speed, go buy the G11 or G12.

As for me: I'm happy with the image quality, I am confident in the AF, I can work around the irritations, and I will be taking it to Great Britain with me. No doubt you want to see the images I have been able to capture with this little black beastie... Eventually I will be adding some of my best EX1 photos to the galleries on this site but don't hold your breath. In the meantime you can check out my EX1 Picasa gallery here which I will be adding to from time to time. I've uploaded the full res so you can download the ones you're interested in and pixel peep to your hearts content.

As for you Samsung: The potential is there to create something great and game changing, however, you need someone with the right vision to make it happen. I am interested in the project and might be prepared to come on board as a design guru if conditions could be agreed upon. My email address is not hard to find.


Thank you for reading.

Warren Mars - August 2010


Epilogue
Since I wrote the above review I have returned from my tour of Great Britain, where I took around 2,000 shots in a variety of conditions. After such heavy usage pretty much everything I have said above remains true, but there are just a few things that I should add:
I repeat that the lens is NOT up to the resolution of the sensor. You won't notice this in normal viewing, but at full zoom your images will have that characteristic blur exhibited by all compacts. You simply can't get the full resolution sharpness you can achieve with a quality SLR setup.
Far from getting used to them, I found that the numerous bugs and idiotic features of the user interface became EVEN MORE tiresome with continued usage. Totally sick of the shooting delays introduced by the MORONIC processing screen in user review and the hair trigger shutter going off while I'm reframing. These faults caused me to miss a number of special shots!
The image stabilisation system is definitely faulty (or it was on my unit at least). I found that in low-light, hand-held situations, such as museums and art galleries, the IS would quite often trigger incorrectly causing the view screen to jump around all over the place and making the shot quite impossible. In better light the IS was generally fine, but you don't NEED it in good light, do you? The fact is, that with this camera's fast lens you don't really need IS, except for museum shots, so I simply turned it off in the end.
The battery is beyond doubt TOO SMALL! Yes, it's fine if you charge it fully every night, but on a trip you often can't do this. I lost a number of important shots due to the battery running out. This is a SERIOUS problem Samsung. You are supposed to be designing a photographer's camera here, not some little toy for a bimbo. Fatten it up and double the life.

I also found that charging it from the USB port on my laptop took about 4 hours!!! RIDICULOUS! Ok, this is an issue with laptops, since it charges much quicker from the USB port on my desktop, but we all use laptops on our trips, not desktops, don't we?

Considering the above, on any extended trip, I stress the need to carry with you the wall charger and a spare battery!
The maximum shutter speed is NOT fast enough and in strong light at wide apertures like f/2.8 your images will be overexposed and ruined. Sure, the camera may provide a subtle warning, but it's TOO SUBTLE! There's every chance, with you concentrating on the shot itself, that you won't notice.

If you review your shots in the field regularly, then you should notice what's just happened and adjust accordingly. But there's every chance you've missed the shot by that stage. Furthermore, in strong light, unless you concentrate and look closely, you might still not notice.

Yes, in theory, if you call yourself a photographer, you should be aware of this limitation in strong light and make sure your aperture is f/4 or narrower, but there's just too many of these limitations that you have to remember with this camera. I'm a highly technical camera geek but there's a limit to how much I want to be thinking about technical issues when I'm trying to capture a great image. This is an electronic shutter, not a mechanical device, can't we have it up to 1/3,000 sec?
Yes, the above comments are all negative, but it is the negative things that a photographer needs to know about since they will impact on your everyday shooting, and it is the negative things that you won't hear about in the commercial reviews, since they are all in the pay of the industry, and the industry wants positive reviews.

To be fair, all the positive things I mentioned in the above review also remain true. The bottom line is that most of the shots I took turned out to be keepers and I AM very happy with the quality of those images. The camera was a perfect size to carry around everyday and it performed well in every situation I threw at it, with the exception of dark museums where the IS let me down.

The FAST lens was useful indoors where I was able to get good shots of people without the use of flash. YES, THAT LENS SPEED IS GREAT! This is where this camera really shines. This is where is beats its rivals, such as the G11/G12, the S90/S95 and the LX4/LX5. But is this useful speed advantage worth all the trouble of all the appalling oversights and mistakes? I guess it depends how much time you intend to be shooting indoors...


Warren Mars - November 2010