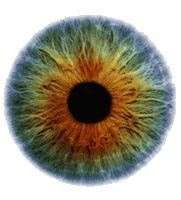 Regardless of the wonders of lens design and computer software, if you don't have a decent sensor, you don't have a decent camera. The sensor is the heart of the camera regardless of whether it is Silver Halide Emulsion, CCD or CMOS. It is the sensor that turns the light into some form of permanent storage. It is the sensor that must obey the laws of Physics. And it is the sensor that dictates the resolution of the image.

Resolution is the central issue in camera design, since it is always a trade off between various photographic parameters and the perceived desires of the market. Insufficient resolution and your pictures are pixelated blobs. Excessive resolution and your pictures are noisy and slow with poor dynamic range.

Resolution in digital camera terms means a number of things:
Spatial Resolution: ie how close 2 dots can be before they merge into one. Basically how many pixels may be discriminated in each dimension. The product of the two axes gives the total resolution expressed in Megapixels, the magic number for the ignorant.
Dynamic Resolution: how many separate levels of light intensity may be discriminated for each pixel colour sensor. This is a complex matter involving human visual perception and intimately tied to dynamic range.
Chromatic Resolution: how many afferent light wavelengths may be accurately discriminated. This metric is most commonly raised in connection with enhanced colour gamut. This is a complex matter that has requires little discussion at this stage, since the conventional RGB scheme is proven satisfactory to most humans, is relatively simple and there is little call for change. I will thus have no more to say about it for the nonce.
The twin issues of Spatial and Dynamic Resolution are intertwined in a manner that few people understand. Essentially you increase the resolution of one at the expense of the other. Exactly how digital cameras achieve satisfactory results for these 3 metrics is what this section is all about. If you think it is just a matter of having lots of Megapixels and 14 bit dynamic range you don't really have any idea. In the end it is all about the quantum behaviour of light, which sets the unbreakable limits of resolution, which technology can merely react to, and it is there that we must start this analysis of the Physics of Cameras.

Yes, it all begins with Photons!