---

What do you mean: "The dictionary's clean, of anything rhyming with purple."?
Just let me but try and I'll give that the lie, by the luminous sheen of my turple.
I'll take your pooh-poohs and your short-sighted views, and show you my thorough-bred's curple.
For if limited so, my poems would flow, like an athlete that runs with a hurple.
a turple                                      a curple                           a hurple
---

Next up you will chime: "There's nothing to rhyme, with the colour known widely as orange."
But that's scoffed at by many, in Abergavenny, that live at the foot of the Blorenge.
Don't try to complain, that such words cause you pain, to compare with a cervical gorange,
You won't care a damn, once you take a wee dram, of the smooth single malt of Glen Morange.
the Blorenge                               a gorange on the neck              Glen Morange distillery
---

There are people that dream, of a theme or a scheme, of a sequence of hues close to olive,
But I think you'll agree, that such folk to a tee, are ignorant, tasteless and stolive.
Just look at their stairs, their tables and chairs, stained khaki, then waxed Estapolive.
Such shades are best left, in the nocturnal cleft, to mammals numbative and quollive.
Estapol varnish                            a numbat                                     a quoll
---

It is said there's a plant, with a dye to enchant, from Pakistan known as indigo.
I confirm that's the case, as the ladies do chase, when I wear my dark slacks and my tindigo.
They once chased so far, that I took my guitar and hid myself deep in the bindigo,
Til I scared them at last, with the horrible cast, of my mask of Ithaqua the windigo.
a chinese tindigo                       bindii seed                           Ithaqua the windigo
---

So sweet to our gaze, is the archaic glaze, of that pottery known as celadon.
'Tis well they compete, with the beauty of wheat, or lilies like canna and belladon.
This light tint of green, can often be seen, at le Tour de France in the peladon.
I'm sure you'll concede, it is better indeed, than the dubious hue of a meladon.
Amaryllis belladonna                       the peladon                                  a meladon
---
It can make us all sigh, when we see up on high, the celestial welkin of azure.
That slightly green hue, of the most profound blue, brings everyone numinous plazure.
But we hate to get wet, so observers we set, and we give them the tools for to mazure.
But we shouldn't complain, of the wind and the rain, for the sky is our number one trazure.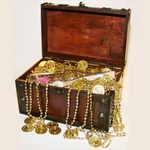 vapour trail in the azure            instruments for mazuring                   a chest of trazure
---

There's scarce few that know, how it can be so, that we see past the blue to the violet.
When not far past red, our vision goes dead, til we look through a crystal of ziolet.
Now you know it is fun, to go out in the sun, and you mustn't turn into a cryolet.
But high energy rays, can shorten your days, sure as one four one five is a piolet.
a cut prism of ziolet                           a cryolet                                            pi
---

With its chroma so rare, there's few to compare, with that fabulous crystal: the emerald.
Which despite what was guessed, was far at the test, from the green it was thought it rezemerald.
In Oz it did speak, at it's glorious peak, with a beauty that shimmered and tremerald.
But that city renowned, may no longer be found, and it's just in our hearts is rememerald.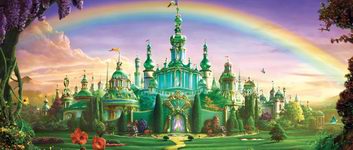 The famous Emerald City of Oz
---

So here at the end, to finish the trend: the impossible rhyming of beige.
"Something", said you, "that you never can do, so give up and act like your eizh".
Well it's done, and with zest, like all of the rest, and I hold out my hand for my weizh,
So mind it well next, when on any pretext, you launch forth to challenge the seizh.
Never argue with a Seizh!
---

Warren Mars - July 2010, revised December 2012