What's wrong with the current Australian flag?
Yes, we have an existing National flag, which many people are happy to wave and which is flown above our parliament house in Canberra and above our champion athletes around the world, but really, it is an outdated, inappropriate and vexillologically unsatisfactory cludge, and I for one am sick of it!

The current Australian flag is a defaced Blue Ensign: a blue field with the Union Flag of Great Britain in the canton, and a large white seven-pointed star known as the "Commonwealth Star" in the lower hoist quarter representing the 6 states and additional territories. The fly contains a representation of the constellation of the Southern Cross1.

The current flag was the result of an official competition held by the new Australian Commonwealth Government in 1901 after Federation. Each competitor was required to submit two coloured sketches, a red ensign and a blue ensign. The designs were judged on seven criteria including loyalty to the Empire. Clearly this didn't leave much room to manoeuvre and most of the 32,823 entries incorporated the Union flag and the Southern Cross. Not everyone was impressed with the result. The Bulletin labelled it:
a staled réchauffé of the British flag, with no artistic virtue, no national significance... Minds move slowly: and Australia is still Britain's little boy. What more natural than that he should accept his father's cut-down garments, – lacking the power to protest, and only dimly realising his will. That bastard flag is a true symbol of the bastard state of Australian opinion.
Well that was in more than one hundred years ago and it's fair to say that The Bulletin's opinion is still equally valid. So let's have a look at what is wrong with it.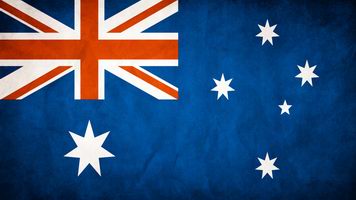 Most notably it contains, in full, the flag of another nation, ie the Union Flag of Great Britain. Now I have nothing against Great Britain, however, it is NOT Australia and we are NOT their colony (not any more). To include their flag on ours is misleading and vexillologically wrong. The use of another nation's flag in the canton of one's own flag indicates a colony or protectorate, neither of which is the case.
It is based on the Blue Ensign of Great Britain, which undefaced is worn by masters of vessels in possession of a warrant issued by the Director of British Naval Reserves, and by the members of certain yacht clubs. It may be defaced with various badges to indicate specific British Government business, such as HM Customs & Excise, Royal Logistics Corps or Royal Engineers. Since the flag of Australia is simply a defaced Blue Ensign, in vexillological terms, the nation of Australia is nothing more than an arm of the British Government.
The use of the Southern Cross, while being something that Australians love, is not something that is unambiguously Australian. The Southern Cross is equally visible from most nations in the southern hemisphere, including South Africa, Argentina, Chile and Fiji. It already appears on the flags of New Zealand, Brazil, Papua New Guinea and Samoa and there is nothing to prevent it appearing on more.
It looks too much like certain other flags, most obviously that of New Zealand. It's a fair bet that most people in the world couldn't tell you what the difference is, (that even goes for most Australians!). A nation's flag ought to be characteristic and unambiguous.
It is recognised by most people overseas as a British flag.
The Commonwealth Star is a legacy of the States, an entirely arbitrary and artificial construct that has no place in the future of this nation. When the regional government of this nation is finally divided into areas that are geographically, agriculturally and socially sensible, the 7 pointed star of the states will be redundant.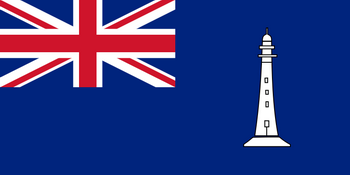 Why not just replace the Union Jack with the Aboriginal Flag?
This simplistic notion is a popular among those who have not researched the topic, but it would not work for a number of reasons:
The use of another flag in the canton, as detailed above, is inappropriate, as it would indicate that the Nation of Australia is a colony or protectorate of Aboriginal Australia. Since Aboriginal Australia is clearly a part of the Nation of Australia this is vexillological nonsense.
Aboriginals may wish to retain their flag for their own exclusive use and not to suborn it to another purpose. Harold Thomas, who designed the Aboriginal Flag, himself said: "I wouldn't reject it out of hand, but I could make a decision to say no. It's not a secondary thing. It stands on its own, not to be placed as an adjunct to any other thing. It shouldn't be treated that way."
The flag of a unified nation should be one unified flag, NOT one flag within another.
As noted above, the device of the Southern Cross, is not uniquely Australian.
Why not just use the Southern Cross?
Flag designers and ordinary Australians have been keen on the idea of a Southern Cross flag, (either stylised or astronomically correct), from before Federation. Who could forget the Eureka Flag: the first great symbol of Australian Independence and Workers' Rights, which is still flown today. Personally, I respect and revere this flag, knowing what it stands for and I wouldn't be upset if it were our National Flag, however, I don't believe it is the best option available for the following reasons:
It is only two colours: silver and navy, which is not a bad thing, but artistically one has much greater opportunity to create if there are 3 colours. Also the use of non-colour, (white in this case), is more limiting artistically than a real colour. One can do more with green and yellow for example than with navy and white. This applies to sports uniforms, official stationery, internal decor etc, as well as just the flag.
It is not characteristically Australian. No one outside Australia, excepting students of our history, would have any clue that this is an Australian flag. It is a white cross on a navy field with 5 stars, within the cross. This could mean anything and could belong to any country. Sure you could say the same thing about the French or Russian flags, but that is their problem, we don't need to fall into that error ourselves.
The stars, though large, are insufficiently well differentiated from the body of the cross, so that from a distance, or with poor focus, one might fail to notice the stars at all.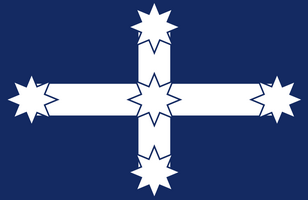 Of course the Eureka Flag was only the beginning of the country's obsession with the Southern Cross and not only was it used in the current Australian Flag but today it continues to appear on a host of alternatives. Most prominently we have the astronomically correct versions on the simple blue and white and green and gold options. I consider these to be POOR options for the flag of our Nation because:
Once again: The Southern Cross is not something that is unambiguously Australian.
The Southern Cross is not recognised as Australian by foreigners.
In order to be large enough to be visible on a flag, the size of the stars must be greatly exaggerated, so much so that the true feel of the constellation is largely lost.
Again the use of just two colours is a tad restrictive, especially in the blue and white realisation.
What are the better alternatives?
There is no limit to the number of quality alternatives to the flags discussed thus far. For a large gallery of these one can do no better than to refer to the AusFlag website. AusFlag deserve considerable credit for their continued efforts to change our flag: running design competitions, educating people about the facts and issues, leading discussion in the media and promoting new designs.

In my opinion the essential requirements for a new Australian Flag are as follows:
It must be characteristically and unambiguously Australian.
It should be immediately recognisable as an Australian flag, even to foreigners.
It must be a unified flag of a single design, not a flag within a flag, nor should it try to say two different things at once.
It must be of attractive design, so that people will readily accept it and be happy to fly it.
It should not be offensive to any significant group of Australians.
It should ideally be of 3 colours and should not be simply blue and white. Those colours should be characteristic of Australia.
It should have regard for basic vexillological design principles such as: simplicity, ease of construction, recognition when flapping or draped or in poor light.
Unfortunately, people's obsession with the Southern Cross ruins the great majority of alternative designs since it prevents the use of a symbol that really IS unambiguously Australian. Also it's use is problematic because the constellation is mostly empty space, something that doesn't work well on a flag.

In my estimation, there is no more iconic image of Australia that the kangaroo. Our beloved marsupial occurs naturally nowhere else in the world and is common right across our land. One could make a similar case for the emu or the platypus or a host of others, but the kangaroo remains at the head of the list and is widely recognised throughout the world.

The red-browns and ochres of central Australia are characteristic of this country and greatly loved by all who go there. Similarly the grey-greens of eucalypt foliage and olive-green and gold of our wattles in flower are also characteristic of our country.

No doubt there are a great many designs possible that utilise these facts to achieve a flag that meets my requirements. I'm always open to new ideas, but after looking at alternatives for over a decade, and even trying my own hand at design, I can't go past Harold Scruby's kangaroo in the outback design, albeit adapted by yours truly, that I have posted at the head of this page. The changes I made were to alter the aspect ratio to 2:1, (which is the normal flag aspect), to alter the pure red to a more natural iron-oxide-red from central Australia, to alter the pure yellow to a golden yellow more like the sun, and most noticeably, to use a picture of an actual red kangaroo instead of the more stylised, Qantas-like roo employed by Mr Scruby. Click here for the full screen version.

I don't know about you, but I would far rather have that flag flying over Parliament House than the one we currently have.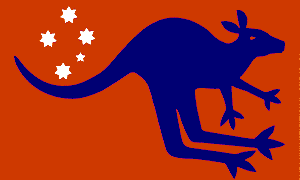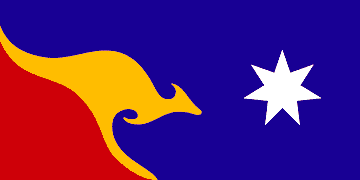 Warren Mars - March 28, 2012